Art and the…Netherlands
Early Netherlandish painting was a period from about 1420 to 1550 that had an astonishing and endless artistic achievement in Northern Europe, also referred to as the Low Countries. Netherlandish painting at this time often coincides with the Early and High Italian Renaissance period, but is still seen as its own independent artistic revolution. Jan van Eyck and Rogier van der Weyden were two of the most renowned painters during this period; Princes and merchants throughout Europe commissioned works from these master painters. Netherlandish artists were praised for their technical and coloristic virtuosity and work that contains significant advances in complex iconography, natural representation and illusionism.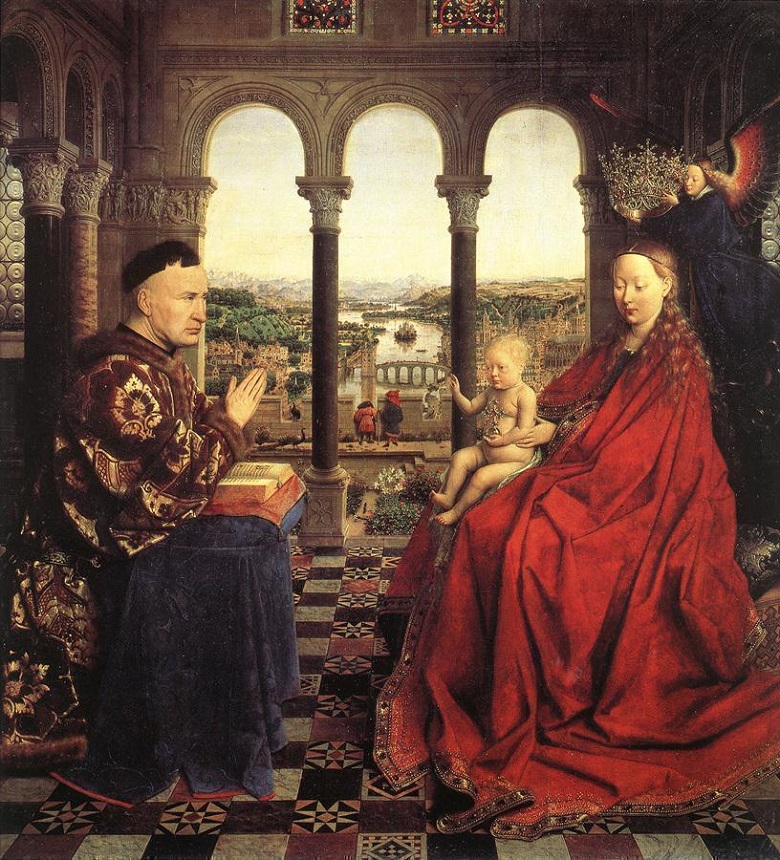 Dutch and Flemish painting in the late 15th and early 16th centuries became heavily influenced by the Italian Renaissance. The art produced during this period continued to show a strong religious and narrative style of painting. Hieronymous Bosch was one of the leading artists of this new era; his work contained strange and irrational imagery and introduced dream-like themes that contrasted the work of other Dutch painters at the time.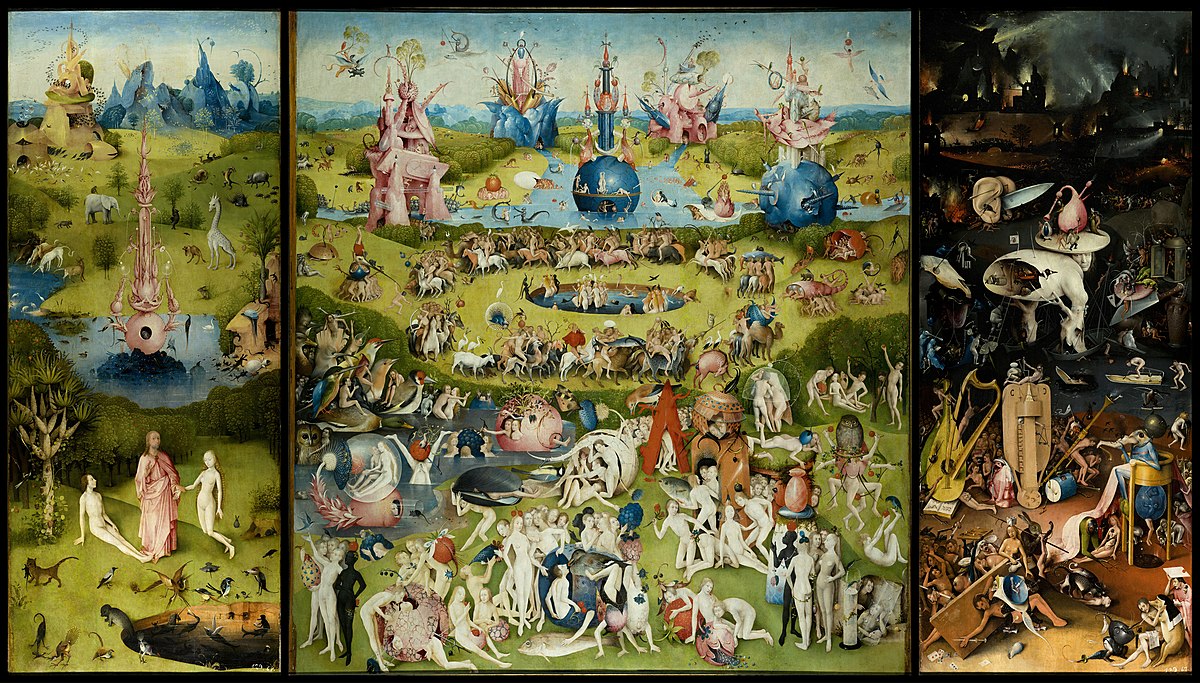 Dutch Golden Age painting is a period in Dutch art history spanning the 17th century. The painting produced during this time often followed tendencies of Baroque art but was the leader in developing subjects of still life, landscape and genre painting. Most Dutch painting reflects the traditions of realism that was inherited from early Netherlandish painting, as it lacks the idealization of typical Baroque art. Dutch artists generally created history paintings, which included allegories or popular religious subjects, still life, landscapes, portraits and genre painting that incorporated scenes of everyday life. Rembrandt was a master draughtsman, painter and printmaker who was active during the 17th century Dutch Golden Age. Similar to other Dutch painters, Rembrandt's work depicted a wide range of style and subject matter, varying from portraits and landscapes to paintings with biblical and mythological themes. His paintings and prints were quite popular during his lifetime and his reputation as an artist remained high, leading him to teach many other Dutch painters for over twenty years.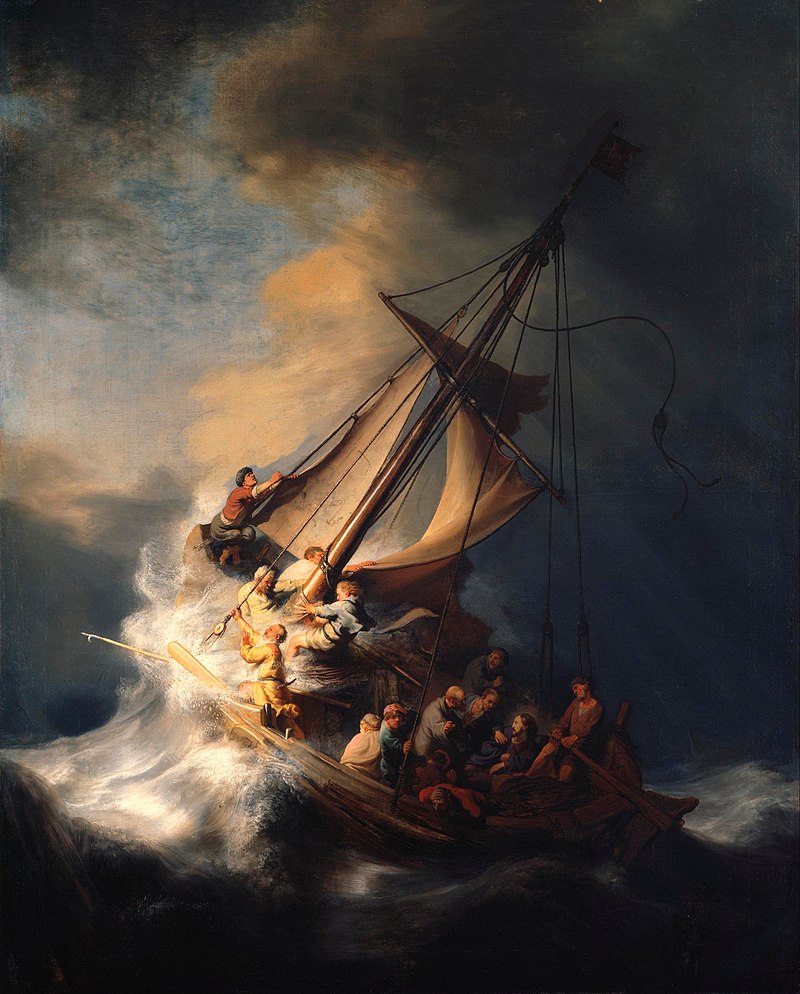 Jan Havickszoon Steen (c. 1626-1679) is another Dutch Golden Age painter whose work is known for its psychological insight, sense of humour and abundance of colour. Steen is mostly known for his genre painting, where he represents everyday scenes and lively interiors that deliver a moralizing theme. At 20 years old, Steen enrolled at the university of Leiden in the Netherlands from 1646 to 1648 and was later on recorded as one of the founding members of Leiden's Saint Luke's Guild. Contemporary sources say that his early teachers were the historical painters Nicolaus Knupfer at Utrecht, Adriaen van Ostade and Jan van Goyan. Steen married van Goyan's daughter in 1949, where he remained in The Hague until 1654, but by 1661, he moved to the city of Haarlem. The decade that he spent in Haarlem was especially productive in terms of his painting because he created many of his greatest works. Some of these paintings included large, complex scenes families and merrymakers containing witty moralizing messages. Steen's paintings often depicted scenes of idyllic and bucolic fantasies with a connection to theatre. He has often been compared to the French playwright Molière because both artists treated life as a vast comedy of manners. Some images contained characters from both the Italian commedia dell'arte and the native Dutch rederijkerskamers (rhetorician's chambers).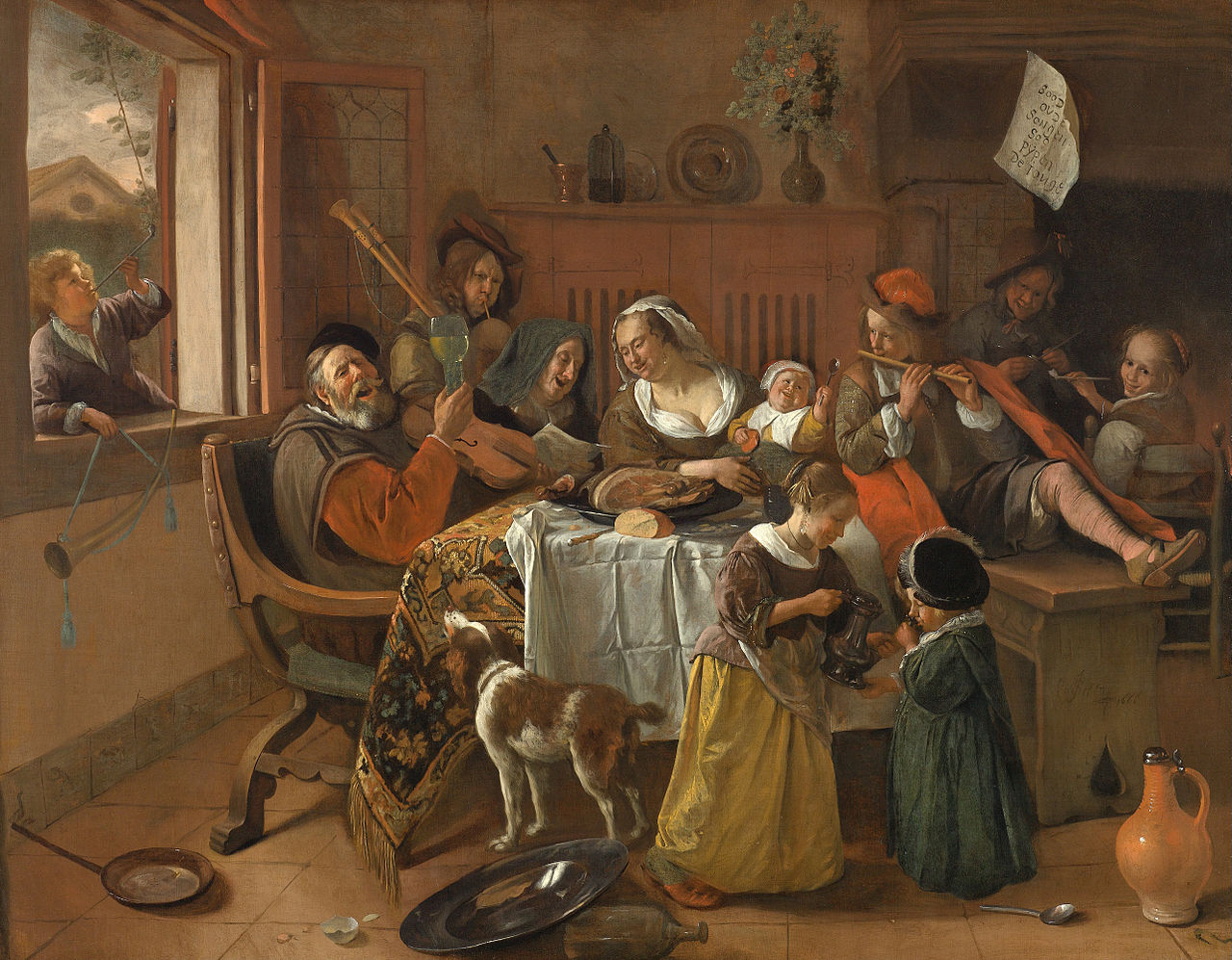 Steen's genre painting featured more individually characterized figures, depicting them playing cards or a game similar to bowling. He also showed these figures carousing in a bar or inn, which reflected on the artist's own background because he was the son of a brewer and tavern keeper. In addition to genre painting, Steen also painted landscapes, including winter scenes with small earthy figures that recall his early teacher Adriaen van Ostade and his brother Isack, who was also an artist. Steen became known for his technical painting skills, specifically in his handling of colours, as well as his mastery in capturing subtle facial expressions in his figures. Given the time period, Steen's work during the last few years of his life began to anticipate the Rococo style that later flourished in the 18th century. This artistic style was quite elegant and flamboyant and less energetic than what we usually see in Steen's work, which began showing a heavy French influence.